66 million years ago, the oceans were home to creatures defined as veritable sea monsters. They were the mosasaurshuge aquatic lizards that lived at the same time as the last dinosaurs. Reaching up to 12 meters in length, they resembled a Komodo dragon with shark fins and tail. They were also extremely diverse, having evolved into a dozen species. Some ate fish and squid, others shellfish or ammonites.
But recently, a new mosasaur that fed on other mosasaurs has been discovered. The new species, called Thalassotitan atrox, was discovered in the Oulad Abdoun basin in the Moroccan province of Khouribga. It was nine meters long and had a huge head that reached 1.3 meters in length. It was certainly the deadliest animal in the sea.
It was nine meters long and had a huge head that reached 1.3 meters in length. It was certainly the deadliest animal in the sea.
Most mosasaurs had long jaws and small teeth for catching fish. But Thalassotitan was built very differently. It had a short, broad snout and strong, killer whale-like jaws. The back of the skull was large enough to attach the large jaw muscles, giving it a powerful bite. Anatomy tells us that this mosasaur was adapted to attack and tear apart large animals.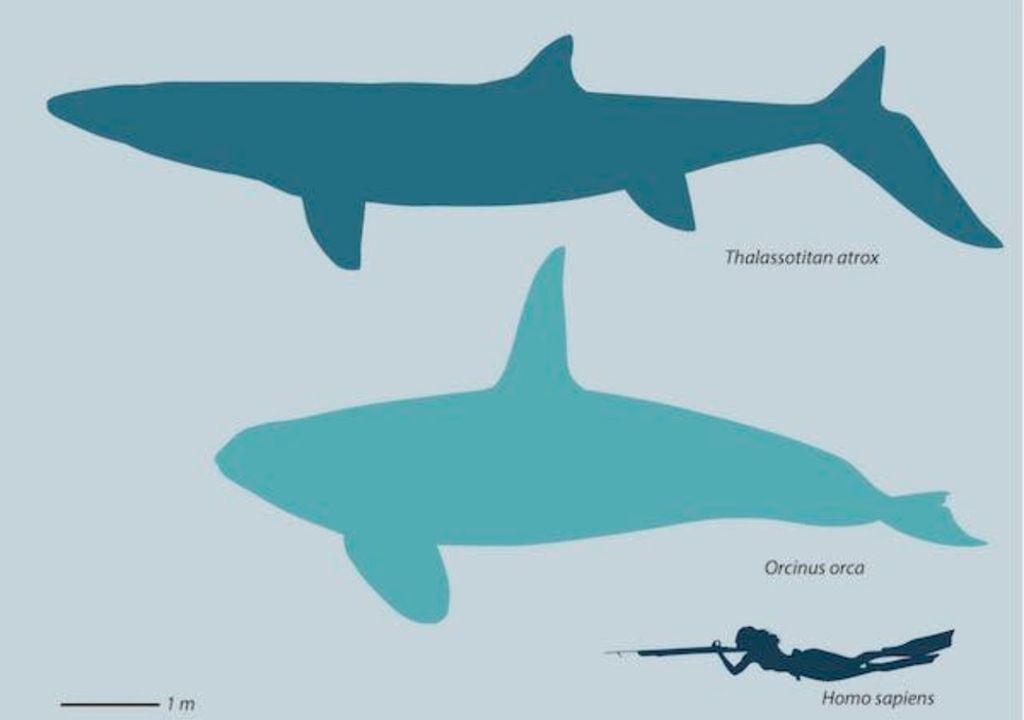 The massive, conical teeth resemble killer whale teeth. In the fossils found, the tips of these teeth are chipped, broken and ground. This heavy wear, which is not found in fish-eating mosasaurs, suggests that Thalassotitan damaged its teeth by biting into the bones of marine reptiles such as plesiosaurs, sea turtles, and other mosasaurs.
At the same site, they also found what appear to be the fossilized remains of their victims. Lhe rocks in which they found the skulls and skeletons of Thalassotitan are full of partially digested bones from other mosasaurs and plesiosaurs (long-necked reptiles). The teeth and remains of these animals show that they were partially eaten away by acid. This suggests they were killed, eaten, and digested by a large predator, which then spat out the bones. Scientists say they still can't be sure Thalassotitan ate them, but this fits the profile of the killer and the evidence makes him the prime suspect.
The Thalassotitan were just one of twelve species that lived in the waters off the Morocco. And although they were only a fraction of all the species that lived in the oceans, the fact that predators were so heterogeneous implies that the lower levels of the food chain were also diverse, so the oceans could all to feed. It means that the marine ecosystem was not in decline before the asteroid impact.
.