Get hands-on with your kids by making mini pizzas for Halloween. Our recipe, very simple to make, will allow you to spend a pleasant moment with your family, while preparing an aperitif for young and old for this autumn celebration. These mini pizzas will give you goosebumps!
During the All Saints holidays, there is a special evening long awaited by children: Halloween.
On October 31, we dress up to scare the neighborhood, the children collect candies or cast spells and we decorate our homes with pumpkins, ghosts and spiders. 🕷👻
Did you know ? In English, "All Hallows'Eve" translates to French, the "eve of all saints" or "the eve of All Saints". 🕸
To occupy them, have a good time and a scary evening, get started in the kitchen, making mini Halloween pizzas. Spiders in black olives, or ghosts in dough scraps or mozzarella, the rendering will please the whole family. We also give you at the end of the article, another idea of ​​scary mini pizzas with different ingredients. 🎃 Happy Halloween!
Recipe for mini Halloween pizzas
Ingredients :
For about 6 mini pizzas
1 pizza dough
cheese
a base (tomato or cream)
black olives
all other ingredients of your choice: ham, mushrooms, vegetables, etc.
What's next after this ad
Preparation
Step 1 : select the ingredients of your choice in your cupboards with your children (olives, tomato sauce, mozzarella, gruyère, ham…), without forgetting the cheese and the olives, for your Halloween decoration. Place everything in different bowls.🍕
2nd step : take a glass or a cookie cutter and cut out circles in your pizza dough. Kids will love it. Don't throw away the scraps, they'll come in handy.
Step 3 : place these circles of dough on a plate (cold) covered with baking paper.
Step 4 : take a spoon each and brush your mini pizza dough with tomato sauce or cream.🍅
Step 5 : let everyone's creativity do the talking, by letting your children put the ingredients of their choice on the mini pizzas.
Creation of ghosts in dough scraps 👻 (you can also use mozzarella)
Step 6: collect your pasta scraps, spread them out then using a ghost cookie cutter, cut the dough. Top your pizzas and place a ghost on some of them. Make eyes and mouth with small pieces of black olives.
Creation of spiders in olives 🕷🕸
Step 7: cut black olives in 2. Leave one half aside and cut the other into thinner slices. Place your olive halves on the other pizzas, and make the legs of your spiders using thin slices.
Step 8: place your mini pizzas in the oven until the edges are golden and the cheese is melted!
What's next after this ad
Another recipe idea for mini pizzas in 10 minutes top time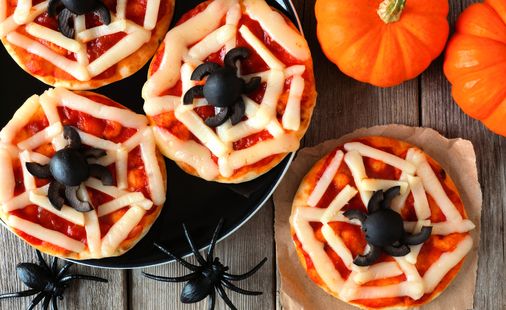 15 Gourmet and Terrifying Desserts for Halloween
Read also :