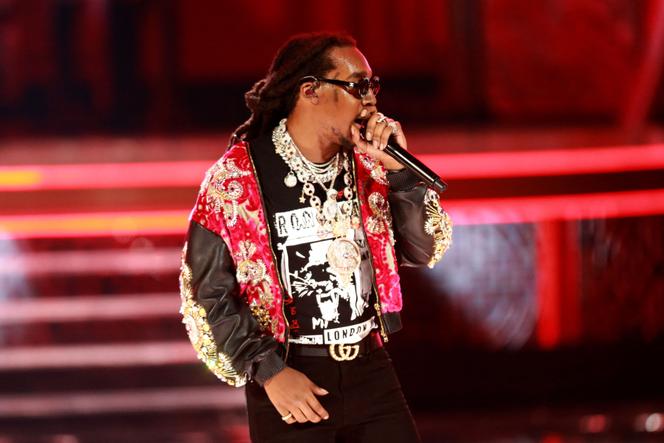 Takeoff, a young 28-year-old rapper and member of the Migos group, was shot and killed on the night of Monday October 31 to Tuesday 1er November in Houston, Texas, according to information revealed by the American media TMZ and confirmed to the Associated Press agency by one of its representatives.
Kirshnik Khari Ball, his real name, was spending the evening in a bowling club in the city with Quavo, his uncle and members like him of Migos. Police were called around 2:30 a.m. to gunshots, according to TMZ. Two other people were injured and hospitalized. No arrests have yet been made.
Born on June 18, 1994, Takeoff was part of the rap group Migos with his uncle Quavo and his cousin Offset, husband of American rapper Cardi B. Hailing from Atlanta, Georgia, the trio rose to mainstream fame in 2013 with Versace, a title all in repetition which illustrates the very particular style of the group, capable of crushing words to give birth to new sounds.
With their triptych of albums Culture, Cultivation II and Cultivation III, they will contribute, with other artists like Young Thug and Gucci Mane, to make Atlanta one of the capitals of American rap. In 2016, they reached new heights with the commercial peak of their career: Bad and Boujee, with Lil Uzi Vert, topped the American charts and made him one of the faces of US rap. At this time, Takeoff is in prison and has not been able to enjoy the budding success of the trio.
Their fame will go beyond the hip-hop world alone thanks to collaborations with pop stars like Justin Bieber or Katy Perry, and appearances in hit series like Atlanta, where they played fictional versions of themselves.
Takeoff and Quavo had just released their very first album as a duo titled Only Built for Infinity Links.